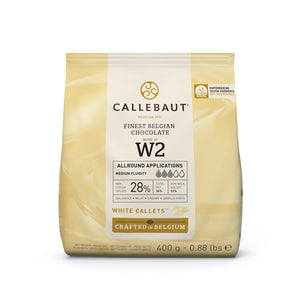 W2 is one of Callebaut's original recipes and has grown into many chefs' preferred chocolate. It has a delightful taste with pronounced milky, creamy, caramelly and vanilla notes that are in perfect balance. With a medium viscosity it a great all-round chocolate.
Cocao Solids: 28%
Flavour Profile: Balanced milky and creamy taste with subtle vanilla notes.
Applications: Enrobing, moulding, panning, piping, spraying, flavouring
Origin: Mainly West African cocoa beans, mostly Forastero variety
Weight: 2.5kg
Ingredients: Sugar; Cocoa butter; Whole milk powder: Emulsifier: soya lecithin; Natural vanilla
Please Note: This premium chocolate is susceptible to high temperature. While we take extreme care packaging these items to ship, we cannot guarantee they will arrive undamaged in warmer months.