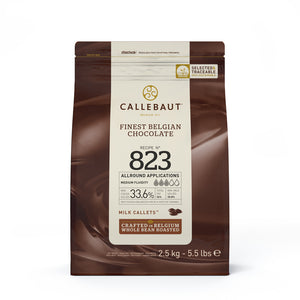 Milk chocolate recipe n° 823 is Callebaut's iconic milk chocolate. It stands out with its deep, warm colour, prominent roasted cocoa flavours and seductive caramelly notes. 823 is widely appreciated because of its generous taste and great reputation in workability.
Reference: 823NV
Cacao solids: 33.6% 
Flavour Profile: Round and balanced taste with perfect marriage of cocoa, milk and caramel.
Applications: Medium enrobbing, moulding, panning, piping decoration, spraying (airbrush), flavouring of ganaches, mousses, cremes, cremeux, ice cream, sauces.
Origin: Mainly West African cocoa beans, mostly Forastero variety
Weight: 2.5kg 
Ingredients: Sugar; Cocoa butter; Whole milk powder; Cocoa mass; Emulsifier: soya lecithin; Natural vanilla

Gluten-free.
Please Note: This premium chocolate is susceptible to high temperature. While we take extreme care packaging these items to ship, we cannot guarantee they will arrive undamaged in warmer months.