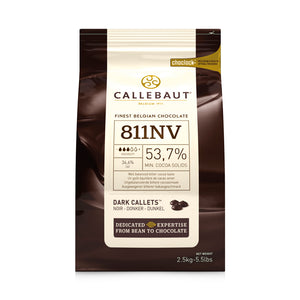 Recipe N° 811

Take on any job with the n°1 for chefs.

One of the authentic recipes by Octaaf Callebaut that has grown into an iconic Callebaut recipe worldwide. Like all Finest Belgian Chocolates, it is made from our signature Wieze blend. Whole bean roasting guarantees its full-bodied taste, solid cocoa body and fine, fruity notes.

This Callebaut Belgian Dark Couverture with 54.5% cocoa solids is made with the finest cocoa beans sourced from around the world, natural vanilla and 100% pure cocoa butter.
This master in balance pairs perfectly with a wide variety of ingredients and works in all applications ranging from confectionery to biscuits, sauces and drinks.
For great end results every time.
Shelf Life 24 Months
 Please Note: This premium chocolate is susceptible to high temperature. While we take extreme care packaging these items to ship, we cannot guarantee they will arrive undamaged in warmer months.