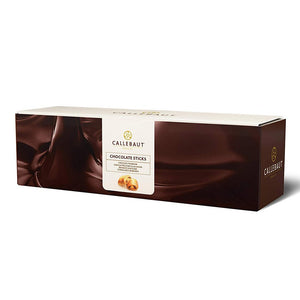 Callebaut Bake-stable batons are 100% chocolate and perfect for enriching your bakery products with a delicious dark chocolate taste. They resist oven temperatures up to 200°C.
Simply roll or wrap them in the dough and bake. They'll melt without burning and after cooling they'll slightly harden again and add a lovely snap and intense, bittersweet chocolate taste to your pain au chocolat, Danish pastries and artisan bakes.
Ingredients: sugar; cocoa mass; cocoa butter; emulsifier: soya lecithin; natural vanilla flavouring

Please Note: This premium chocolate is susceptible to high temperature. While we take extreme care packaging these items to ship, we cannot guarantee they will arrive undamaged in warmer months.